---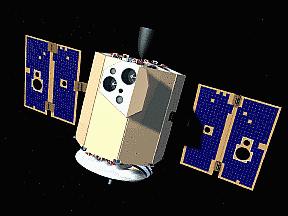 Clementine
Credit: USAF
American lunar orbiter. One launch, 1994.01.25. Clementine was jointly sponsored by BMDO and NASA as the Deep Space Program Science Experiment (DSPSE).
The principal objective was to space qualify lightweight imaging sensors and component technologies for the next generation of DOD spacecraft. Intended targets for these sensors included the Moon, a near-Earth asteroid (1620 Geographos), and the spacecraft's interstage adapter.
Clementine was a military-sponsored technology status that provided America's first mission to the moon in 25 years. After entering lunar orbit, Clementine provided over 1.6 million images of the Moon's surface. After the lunar mapping phase was completed, the spacecraft left lunar orbit for a planned encounter with the asteroid Geographos, but was unable to rendezvous due to a spacecraft computer failure on 17 May 1994. The spacecraft was shut down on 21 July 1994.
The spacecraft was 3-axis stabilized, and used dual GaAs solar arrays with 1-axis articulation.A fixed 1.1 m high gain antenna provided S-Band downlink to NASA's Deep Space Network and DoD tracking stations with downlink rate up to 128 kbps. A 1.9 Gbit solid state recorder was used for data storage. The satellite had two propulsions systems: a bipropellant system with a 489 N thruster, and a hydrazine system with 10 x 5.3 N and 7 x 22 N thrusters. The computer had a 32-bit R3000 processor. Lightweight ring laser gyro and IFOG (1 deg/hr) navigation. A NiH2 CPV battery with 15 AH capacity was used. Lightweight reaction wheels provided attitude control and star tracker cameras determined absolute position. A JPEG image compression chip from Matra Marconi reduced the size of image files prior to transmission to earth.
Payloads included two miniature star tracker cameras, a UV/Visible camera, a Near-IR camera, a Long wave IR camera, a high resolution camera, a laser transmitter, a charged particle telescope, four dosimeters, a radiation experiment, and an orbital meteoroid and debris counting experiment. Total payload was 8 kg in mass and consumed 68 watts.
Total project cost was $ 80 million, using a Titan II converted surplus ICBM as the launch vehicle.
Gross mass: 424 kg (934 lb).
Height: 1.90 m (6.20 ft).
First Launch: 1994.01.25.
Number: 1 .

More... - Chronology...
---
---
---
Associated Countries
---
See also
---
Associated Launch Vehicles
---
Associated Manufacturers and Agencies
---
Bibliography
---
Associated Launch Sites
---
Clementine Chronology
---
1994 January 25 -
. 16:34 GMT - .
Launch Site
:
Vandenberg
.
Launch Complex
:
Vandenberg SLC4W
.
LV Family
:
Titan
.
Launch Vehicle
:
Titan 2G
.
LV Configuration
: Titan II SLV 23G-11 / M68B-67 + M68B-89.
---
1994 February 20 -
.
---
1994 July 21 -
.
---
Home - Browse - Contact
© / Conditions for Use
---