---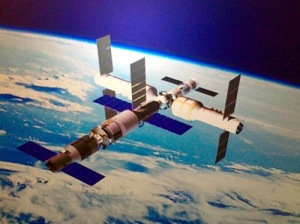 Chinese Station
Chinese Space Station image exhibited at UN exhibit, Vienna, 2011
Credit: © Mark Wade
In 2009-2011 Chinese authorities announced firm plans to assemble a 60 metric ton, three-module space station by 2010.
The station would accommodate a crew of three in a 400-450 km / 42-43 deg inclination orbit for ten years. Each module would have a mass of 20-22 metric tons, a length of 14.4 m, and a maximum diameter of 4.2 m. The Core Module would have a five-port spherical docking section, like Mir. The two Experimental Modules would have this section replaced by an extended smaller-diameter section. Crews would be rotated to the station via Shenzhou-derived manned spaceships with reinforced docking collars. Logistics would be via 13 metric ton Cargo Spaceships.
Height: 14.40 m (47.20 ft).
Diameter: 4.20 m (13.70 ft).

More... - Chronology...
---
---
---
Associated Countries
---
See also
---
Home - Browse - Contact
© / Conditions for Use
---