---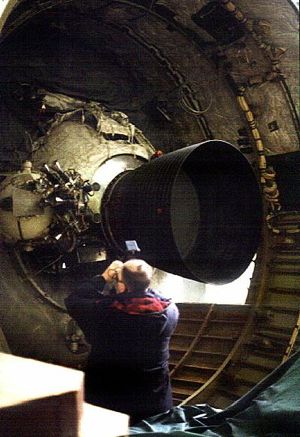 Block D / 11D68
Aft view of the Block D lunar crasher stage and its 11D68 engine. The Block D would have taken the LK lunar lander to near the surface of the moon. This stage remains in use today atop the Proton rocket.
Credit: © Mark Wade
Russian space tug. 6 launches, (1997) to (2002). Upper stage / space tug - in production. Launched by Proton. Also known as Block DM-5. With guidance unit, modification of 11S861 stage for heavier payloads and with different payload adapter.
Commercial version was Block DM2, with Iridium dispenser.
Designed for insertion of multiple spacecraft into medium earth orbit.
Characteristics
Unit Cost $: 4.000 million.
AKA: Block DM; D-1-e.
Gross mass: 14,600 kg (32,100 lb).
Unfuelled mass: 3,300 kg (7,200 lb).
Height: 7.10 m (23.20 ft).
Diameter: 3.70 m (12.10 ft).
Span: 3.70 m (12.10 ft).
Thrust: 85.02 kN (19,113 lbf).
Specific impulse: 352 s.
Number: 6 .

More... - Chronology...
---
---
---
Associated Countries
---
Associated Engines
---
See also
---
Associated Propellants
---
Home - Browse - Contact
© / Conditions for Use
---