---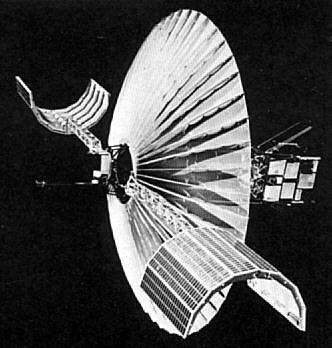 ATS-6
Credit: NASA
American communications technology satellite. One launch, 1974.05.30, ATS 6. In addition to its technology experiments, ATS-6 became the world's first educational satellite.
During its 5 year life, ATS-6 transmitted educational programming to India, the US and other countries. The vehicle also conducted air traffic control tests, was used to practice satellite-assisted search and rescue techniques, carried an experimental radiometer subsequently carried as a standard instrument aboard weather satellites, and pioneered direct broadcast TV. The satellite also played a major role in the Apollo/Soyuz docking in 1975 when it relayed signals to the Houston Control centre.
ATS-6 was boosted above geostationary orbit when thruster failures threatened to prevent further control of the spacecraft. The spacecraft had a 9 m diameter deployed antenna reflector. Pointing accuracy was 0.1 deg. Two half cylinder drum arrays on booms provided 645 W BOL electrical power. The satellite was 3 axis stabilized.
Payloads included the VHRR (Very High Resolution Radiometer) instrument, a millimeter wave propagation experiment, an L-band communications package, and C-band communications equipment
AKA: Applications Technology Satellite.
Gross mass: 930 kg (2,050 lb).
Height: 8.50 m (27.80 ft).
Span: 16.00 m (52.00 ft).
First Launch: 1974.05.30.
Number: 1 .

More... - Chronology...
---
---
---
Associated Countries
---
See also
---
Associated Launch Vehicles
---
Associated Manufacturers and Agencies
---
Associated Programs
---
Bibliography
---
Associated Launch Sites
---
ATS-6 Chronology
---
1974 May 30 -
. 13:00 GMT - .
Launch Site
:
Cape Canaveral
.
Launch Complex
:
Cape Canaveral LC40
.
LV Family
:
Titan
.
Launch Vehicle
:
Titan 3C
.
LV Configuration
: Titan IIIC 23C-9 (3C-27).
---
Home - Browse - Contact
© / Conditions for Use
---