Home - Search - Browse - Alphabetic Index: 0- 1- 2- 3- 4- 5- 6- 7- 8- 9
A- B- C- D- E- F- G- H- I- J- K- L- M- N- O- P- Q- R- S- T- U- V- W- X- Y- Z
---
CTV
---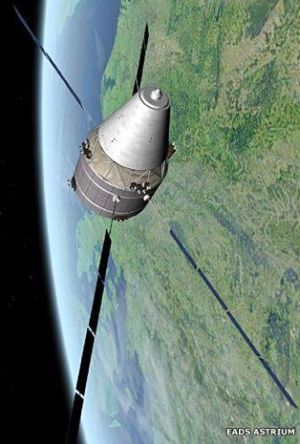 CTV
Credit: EADS Astrium
European manned spacecraft. Study 2008. Proposed European manned spacecraft to shuttle crews to the International Space Station from 2018.
AKA: Crew Transfer Vehicle. Status: Study 2008. Payload: 7,300 kg (16,000 lb). Gross mass: 18,000 kg (39,000 lb). Height: 8.40 m (27.50 ft). Diameter: 4.40 m (14.40 ft). Span: 22.30 m (73.10 ft).
The ESA Crew Transport Vehicle originated in a study for a Large Cargo Return scenario for the ATV space station resupply spacecraft. The ATV's pressurized Integrated Cargo Carrier would be replaced by a large cargo reentry capsule with a re-entry shield, able to bring back hundreds of kilograms of cargo and experiments. Such a project could use the flight-proven concept of the Atmospheric Reentry Demonstrator, which flew successfully in 1998.
This scenario developed into a second and more detailed study, called the Cargo Return Vehicle, which would be able to dock to the US segment of the ISS and load and unload standard equipment racks of the Station. A variant would be a Crew Transport Vehicle, which would require more complex modifications. The Integrated Cargo Carrier would be transformed into a re-entry capsule for crew transportation, which could be used, in a first phase, as a crew rescue vehicle for the ISS, and then as a full up-and-down crew transport vehicle launched by Ariane 5. Such ATV evolution would give Europe the capabilities of human transportation into low Earth orbit.
A primitive mockup of the concept was displayed by EADS Astrium at ILA Berlin in 2008. Given a prompt go-ahead, the company said the first Cargo Return Vehicle version of the capsule could be flying by 2013 and at a cost below one billion euros. The capsule could then be upgraded to transport three astronauts in a second phase. The first manned flight would be in 2017 after expenditure of an additional two billion euros. This cost probably did not include erection of a second Ariane 5 pad and other piloted flight and abort infrastructure at Kourou, and development of a man-rated version of the Ariane 5 launch vehicle.
Crew Size: 3.
---
---
Family
:
Manned spacecraft
,
New Generation Crewed
.
Country
:
Europe
.
Launch Vehicles
:
Ariane 5
.
Agency
:
ESA
,
Cannes
.
---
Photo Gallery
---
---
New Generation
Manned Spacecraft
Credit: © Mark Wade
---
---
New Generation
Launch Escape Systems of New Generation Manned Spacecraft
Credit: © Mark Wade
---
---
---
Back to top of page
---
Home - Search - Browse - Alphabetic Index: 0- 1- 2- 3- 4- 5- 6- 7- 8- 9
A- B- C- D- E- F- G- H- I- J- K- L- M- N- O- P- Q- R- S- T- U- V- W- X- Y- Z
---
© 1997-2019 Mark Wade - Contact
© / Conditions for Use
---