Home - Search - Browse - Alphabetic Index: 0- 1- 2- 3- 4- 5- 6- 7- 8- 9
A- B- C- D- E- F- G- H- I- J- K- L- M- N- O- P- Q- R- S- T- U- V- W- X- Y- Z
---
Crossbow
---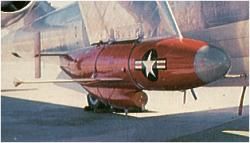 Crossbow

American air-to-surface missile, development started in 1953. Program cancelled in 1957.

AKA: B-67;GAM-67. Status: Cancelled 1958. Thrust: 4.41 kN (991 lbf). Gross mass: 1,300 kg (2,800 lb). Height: 5.82 m (19.09 ft). Diameter: 0.67 m (2.19 ft). Span: 3.81 m (12.49 ft). Apogee: 15 km (9 mi).

Development of the air-launched antiradar/ECM/decoy Crossbow missile began in 1953 under project MX-2013. The first successful powered flight came in July 1956, and the first guided flight in May 1957. The turbojet-powered Crossbow was carried on underwing pylons of a B-50 or B-47 bomber. Development was cancelled in July 1957 in favor of the much more advanced Hound Dog, Quail, and Skybolt missiles planned for the B-52. Proposed follow-on WS-121B Longbow was terminated in 1960. Only 14 missiles were built.

Development Cost $: 74.600 million in 1958 dollars. Maximum range: 480 km (290 mi). Boost Propulsion: Turbojet. Maximum speed: 1,090 kph (670 mph). Initial Operational Capability: 1955.
---
More at: Crossbow.
---
Family: aircraft-launched, air-to-surface. Country: USA. Agency: Radioplane.
---
---
Home - Search - Browse - Alphabetic Index: 0- 1- 2- 3- 4- 5- 6- 7- 8- 9
A- B- C- D- E- F- G- H- I- J- K- L- M- N- O- P- Q- R- S- T- U- V- W- X- Y- Z
---
© 1997-2017 Mark Wade - Contact
© / Conditions for Use
---