Home - Search - Browse - Alphabetic Index: 0- 1- 2- 3- 4- 5- 6- 7- 8- 9
A- B- C- D- E- F- G- H- I- J- K- L- M- N- O- P- Q- R- S- T- U- V- W- X- Y- Z
---
Christmas Island
---
---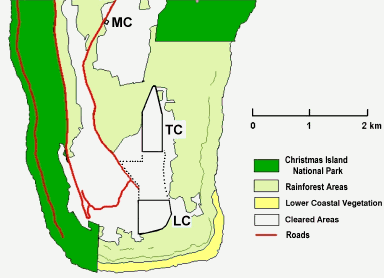 Christmas Island
---
Asia Pacific Space Centre Pty Ltd was an Australian company that in 1997 planned to build and operate a commercial satellite launch facility (APSC) on the Australian Territory of Christmas Island. This was one of several schemes in the 1990's to move Russian launch vehicle operations to near-equatorial launch sites. However prior to the launch market collapse, insufficient backing was found to allow the plan to go ahead.
Location: Christmas Island, Indian Ocean. Longitude: 105.73 deg. Latitude: -10.10 deg.
Christmas Island was an Australian external Territory, located 360 km south of Jakarta, Indonesia. The Island had a population of approximately 1700, predominantly Chinese, Malay and European immigrants. The APSC was to be located on land within an existing Mining Lease on South Point. Construction of the APSC facility was proposed to commence in 2000 and take 18 months to complete. The expected lifespan of the facility was 15-20 years. Launch vehicles were to be provided to APSC by the Russian space industry. The first launch was proposed by 2002. By 2005, APSC planned to launch 10-12 satellites per year. The facility was expected to generate about 300 jobs in both the construction and operational stages.
Christmas Island was chosen because of its geographic location. The Island was surrounded by ocean that allowed clear flight paths to the east and to the south. The facility could launch space vehicles into both equatorial and polar orbits. The main facility was proposed to occupy the eastern half of Mining Lease 100 (ML 100) at South Point. The Centre would occupy a total area of 85 hectares, of which approximately 30% would be built upon. The APSC facility would comprise a Technical Complex (TC), Launch Complex (LC) and Mission Control (MC). The TC would contain a launch vehicle assembly building, a payload preparation building, storage for components awaiting assembly, a liquid oxygen plant and a fuel store. It would also contain a range of support facilities including workshops, laboratories, fire station, canteen and staff rest areas. The LC consisted of the launch pads and launch vehicle fuelling system. The MC contained all the communications systems required for launch. Housing for 250-300 workers would be provided through a mix of on-site construction camps and new housing proposed to be built in the Irvine Hill area adjacent to the airport.
---
---
Family
:
Orbital Launch Site
.
Country
:
Australia
.
Agency
:
Asia Pacific Space
.
Bibliography
:
580
,
9346
.
---
Photo Gallery
---
---
Christmas Island
Location of Christmas Island
Credit: © Mark Wade
---
---
---
Back to top of page
---
Home - Search - Browse - Alphabetic Index: 0- 1- 2- 3- 4- 5- 6- 7- 8- 9
A- B- C- D- E- F- G- H- I- J- K- L- M- N- O- P- Q- R- S- T- U- V- W- X- Y- Z
---
© 1997-2019 Mark Wade - Contact
© / Conditions for Use
---