Home - Search - Browse - Alphabetic Index: 0- 1- 2- 3- 4- 5- 6- 7- 8- 9
A- B- C- D- E- F- G- H- I- J- K- L- M- N- O- P- Q- R- S- T- U- V- W- X- Y- Z
---
Chinese Space Station
---
Part of Shenzhou Family
---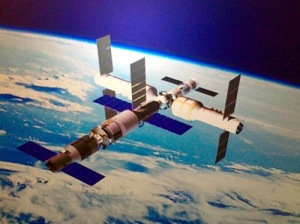 Chinese Station
Chinese Space Station image exhibited at UN exhibit, Vienna, 2011
Credit: © Mark Wade

In 2009-2011 Chinese authorities announced firm plans to assemble a 60 metric ton, three-module space station by 2020. This replaced earlier plans for a 20 metric-ton single-module laboratory.

AKA: Chinese Space Laboratory;Project 921-3. Status: In development 2017.. Gross mass: 60,000 kg (132,000 lb). Height: 14.40 m (47.20 ft). Diameter: 4.20 m (13.70 ft).

The station would accommodate a crew of three in a 400-450 km / 42-43 deg inclination orbit for ten years. Each module would have a mass of 20-22 metric tons, a length of 14.4 m, and a maximum diameter of 4.2 m. The Core Module would have a five-port spherical docking section, like Mir. The two Experimental Modules would have this section replaced by an extended smaller-diameter section. Crews would be rotated to the station via Shenzhou-derived manned spaceships with reinforced docking collars. Logistics would be via 13 metric ton Tianzhou resupply spacecraft.
---
---
Family: Chinese Manned Spacecraft, Space station. Country: China. Launch Vehicles: CZ-5. Bibliography: 2, 460, 6414.
---
---
Home - Search - Browse - Alphabetic Index: 0- 1- 2- 3- 4- 5- 6- 7- 8- 9
A- B- C- D- E- F- G- H- I- J- K- L- M- N- O- P- Q- R- S- T- U- V- W- X- Y- Z
---
© 1997-2017 Mark Wade - Contact
© / Conditions for Use
---