Home - Search - Browse - Alphabetic Index: 0- 1- 2- 3- 4- 5- 6- 7- 8- 9
A- B- C- D- E- F- G- H- I- J- K- L- M- N- O- P- Q- R- S- T- U- V- W- X- Y- Z
---
Bono Saucer
---
Part of Bono
---
---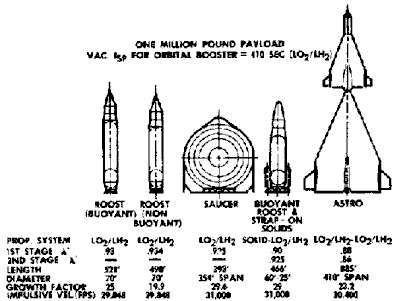 ROOST and Astro
Credit: NASA
---
American manned spaceplane. Study 1963. In 1963 Phil Bono of Douglas Aircraft considered a lenticular configuration for a single-stage-to-orbit reusable booster. This was the largest application found to date for the lenticular concept.
Status: Study 1963. Payload: 454,000 kg (1,000,000 lb). Gross mass: 20,400,000 kg (44,900,000 lb). Unfuelled mass: 1,940,000 kg (4,270,000 lb). Specific impulse: 410 s. Height: 120.00 m (390.00 ft). Span: 108.00 m (354.00 ft).
The 108-m diameter saucer would have delivered a million pounds of payload to low earth orbit. It was assessed as having a slightly inferior mass fraction to the baseline cylindrical ROOST design (0.925 versus 0.930) and a significantly higher delta-V requirement due to increased drag (9450 m/s total impulsive requirement vs 9100 m/s for the preferred ROOST concept). This drove the gross lift-off mass at the assumed vacuum specific impulse of 410 seconds to 45 million pounds versus 25 million pounds for the ROOST baseline. The design evidently went no further than a notional concept in the trade study.
Spacecraft delta v: 9,450 m/s (31,000 ft/sec).
---
---
Family
:
Lenticular Vehicles
,
Spaceplane
.
Country
:
USA
.
Propellants
:
Lox/LH2
.
Agency
:
Douglas
.
Bibliography
:
214
.
---
---
Back to top of page
---
Home - Search - Browse - Alphabetic Index: 0- 1- 2- 3- 4- 5- 6- 7- 8- 9
A- B- C- D- E- F- G- H- I- J- K- L- M- N- O- P- Q- R- S- T- U- V- W- X- Y- Z
---
© 1997-2019 Mark Wade - Contact
© / Conditions for Use
---