Home - Search - Browse - Alphabetic Index: 0- 1- 2- 3- 4- 5- 6- 7- 8- 9
A- B- C- D- E- F- G- H- I- J- K- L- M- N- O- P- Q- R- S- T- U- V- W- X- Y- Z
---
Black Brant 8
---
Part of Black Brant
---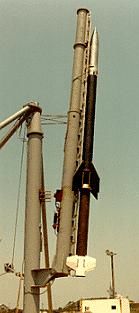 Black Brant
Black Brant 8
Canadian sounding rocket. Two stage vehicle consisting of 1 x Nike booster + Black Brant VB or VC upper stage. Payload 136 kg to 430 km or 408 kg to 230 km.
AKA: Nike-Black Brant. Thrust: 196.00 kN (44,062 lbf). Gross mass: 2,000 kg (4,400 lb). Height: 11.90 m (39.00 ft). Diameter: 0.44 m (1.44 ft). Apogee: 340 km (210 mi).
The performance capabilities of the Black Brant V vehicle could be enhanced by boosting it with a Nike booster. This configuration could be tower launched in three and four fin versions (VB and VC, respectively). The Nike M5-El booster was the same rocket motor used to boost the Tomahawk sustainer and could be configured with three or four fins, depending on Black Brant VB or VC application. The Nike and Black Brant V stages drag separated at Nike burnout and the Black Brant V ignited at 8.5 seconds flight time. The Black Brant V rocket motor was configured with the addition of an ignition module at the motor front end.
The payload configurations used with the Nike boosted Black Brant V were similar to, or even interchangeable with, those flown on the single stage BB V B/C version. The Nike boosted Black Brant V vehicle could also accommodate bulbous diameter payloads (up to 56 cm) for scientific instruments which required a larger diameter than the standard 17.26 inches.
Standard hardware systems that were available for Nike-Black Brant V motors included aft recovery systems for 340 kg or 450 kg recovered weights, an Ogive Recovery System Assembly (ORSA) for the same weight ranges, payload separation systems (including High Velocity Separation Systems) and despin systems. These units were modular 'stackable'', providing a great deal of flexibility in meeting experiment requirements.
---
---
Country
:
Canada
.
Agency
:
Bristol
.
---
---
Back to top of page
---
Home - Search - Browse - Alphabetic Index: 0- 1- 2- 3- 4- 5- 6- 7- 8- 9
A- B- C- D- E- F- G- H- I- J- K- L- M- N- O- P- Q- R- S- T- U- V- W- X- Y- Z
---
© 1997-2019 Mark Wade - Contact
© / Conditions for Use
---