---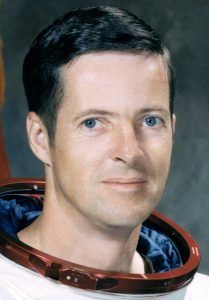 Kerwin
Credit:
www.spacefacts.de
- www.spacefacts.de
Kerwin, Dr Joseph Peter
(1932-) American physician astronaut. Flew on Skylab 2. Member of first successful space station mission.
Educated Holy Cross; Northwestern. Total EVA Time: 0.15 days. Number of EVAs: 1.
NAME: Joseph P. Kerwin, M.D
BIRTHPLACE AND DATE: Kerwin was born February 19, 1932, in Oak Park, Illinois.
EDUCATION: Kerwin received a Bachelor of Arts in Philosophy from College of Holy Cross in 1953 and a Doctor of Medicine from Northwestern University Medical School in 1957.
EXPERIENCE: Kerwin completed his internship at the District of Columbia General Hospital, then joined the Navy and attended the U.S. Navy School of Aviation Medicine at Pensacola, Florida. He was designated a naval flight surgeon in 1958. He earned his flight wings in 1962. NASA selected Kerwin in its first group of six scientist-astronauts in June 1965.
He was named science pilot for Skylab 2, the first manned mission to the Skylab space station. Kerwin was launched to the crippled station on May 25, 1973, together with Commander Charles Conrad Jr. and Command Module pilot Paul Weitz. The launch had been delayed ten days while engineers sought ways to save the $2.6 billion project after Skylab entered orbit with its sun shield and one solar panel ripped off during ascent. NASA and Contractor engineers built a sunshade of thin, aluminized Mylar and nylon to erect over station, and cutting tools for freeing the remaining stuck solar panel.
Six hours after launch Skylab 2 rendezvoused with the station and confirmed the damage. Weitz, wearing a bulky space suit and with Kerwin hanging on to his legs, leaned out the open Apollo hatch and tried unsuccessfully to jerk the stuck solar panel loose with a long-handled tool resembling a boat hook. The astronauts then docked with the station but spent the night in their Apollo capsule. The next day they entered the sweltering lab and erected the folded-up sun shade through a small scientific airlock. The 7-by-8-m shade worked as planned, and reduced the temperatures in the station to warm but tolerable levels. The astronauts then were able to turn to the planned program of scientific study of the sun and Earth. Kerwin, America's the first physician in space, studied the adaptation of the crew to zero gravity. On the thirteenth day of the mission Conrad and Kerwin conducted an EVA. Attached to 60-foot tethers, they used cutting tools, leverage, and muscle power to finally free the stuck solar panel. The crew then settled into a daily routine, returning home after a record 4 weeks in orbit.
Following the flight, Kerwin became Director, Space and Life Sciences at NASA's Johnson Space Center. He resigned from NASA and the US Navy in 1987. From then until 1996 he held management positions with Lockheed Martin Missiles and Space Company. He presently heads Krug Life Sciences, a major research contractor with NASA.
---
Birth Place: Oak Park, Illinois.
Status: Inactive.


Born: 1932.02.19.
Spaceflights: 1 .
Total time in space: 28.03 days.

More... - Chronology...
---
---
---
Associated Countries
---
See also
---
Associated Flights
---
Associated Manufacturers and Agencies
---
Associated Programs
---
Kerwin Chronology
---
1965 June 28 -
.
---
1970 April 11 -
. 19:13 GMT - .
Launch Site
:
Cape Canaveral
.
Launch Complex
:
Cape Canaveral LC39A
.
LV Family
:
Saturn V
.
Launch Vehicle
:
Saturn V
.
LV Configuration
: Saturn V SA-508.
---
1973 May 25 -
. 13:00 GMT - .
Launch Site
:
Cape Canaveral
.
Launch Complex
:
Cape Canaveral LC39B
.
LV Family
:
Saturn I
.
Launch Vehicle
:
Saturn IB
.
LV Configuration
: Saturn IB SA-206.
---
1973 June 7 -
. 15:15 GMT - .
---
1973 June 22 -
.
---
Home - Browse - Contact
© / Conditions for Use
---