---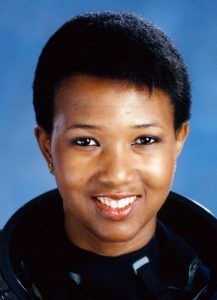 Jemison
Credit:
www.spacefacts.de
- www.spacefacts.de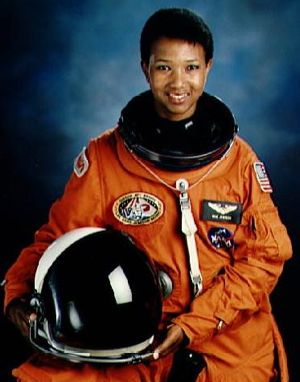 Jemison
Jemison, Dr Mae Carol
(1956-) African-American physician mission specialist astronaut. Flew on STS-47. Physician. First African-American woman to fly in space.
Grew up in Chicago, Illinois. Educated Stanford; Cornell.
---
Official NASA Biography
NAME: Mae C. Jemison (M.D.)
NASA Astronaut
BIRTHPLACE AND DATE: Born October 17, 1956, in Decatur, Alabama, but considers Chicago, Illinois, to be her hometown. Her parents, Charlie & Dorothy Jemison, reside in Chicago.
PHYSICAL DESCRIPTION: Black hair; brown eyes; 5 feet 9 inches; 140 pounds.
EDUCATION: Graduated from Morgan Park High School, Chicago, Illinois, in 1973; received a bachelor of science degree in chemical engineering from Stanford University in 1977 (also fulfilled the requirements for a B.A. in african and afro-American Studies), and a doctorate in medicine degree from Cornell University in 1981.
MARITAL STATUS: Single
RECREATIONAL INTERESTS: She enjoys traveling, graphic arts, photography, sewing, skiing, collecting African Art, languages (Russian, Swahili, Japanese), weight training, has an extensive dance and exercise background, and is an avid reader.
ORGANIZATIONS: Member, American Medical Association and American Chemical Society. Honorary member, Alpha Kappa Alpha Sorority; Member, Association for the Advancement of Science; Board Member, World Sickle Cell Foundation; Honorary Board Member, Center for the Prevention of Childhood Malnutrition.
SPECIAL HONORS: National Achievement Scholarship (1973-1977); Stanford representative to Carifesta '76 in Jamaica; 1979 CIBA Award for Student Involvement; American Medical Student Association (AMSA) study group to Cuba; Grant from International Travelers Institute for health studies in rural Kenya (1979); organized New York city-wide health and law fair for National Student Medical Association (1979); worked refugee camp in Thailand (1980). Recipient of Essence Award (1988), and Gamma Sigma Gamma Woman of the Year (1989).
EXPERIENCE: Dr. Jemison has a background in both engineering and medical research. She has worked in the areas of computer programming, printed wiring board materials, nuclear magnetic resonance spectroscopy, computer magnetic disc production and evaluation of trophic factors for rat epididymides.
Dr. Jemison completed her internship at Los Angeles County/USC Medical Center in July 1982 and worked as a General Practitioner with INA/Ross Loos Medical Group in Los Angeles until December 1982.
From January 1983 thru June 1985, Dr. Jemison was the Area Peace Corps Medical Officer for Sierra Leone and Liberia in West Africa. Her task of managing the health care delivery system for U.S. Peace Corps and U.S. Embassy personnel included provision of medical care, supervision of the pharmacy and laboratory, medical administrative issues, and supervision of medical staff. She developed curriculum for and taught volunteer personal health training, wrote manuals for self care, developed and implemented guidelines for public health/safety issues for volunteer job placement and training sites. Dr. Jemison developed and participated in research projects on Hepatitis B vaccine, schistosomaisis and rabies in conjunction with the National Institute of Health and the Center for Disease Control.
On return to the United States, Dr. Nemison joined CIGNA Health Plans of California in October 1985 and was working as a General Practitioner and attending graduate engineering classes in Los Angeles when selected to the astronaut program.
NASA EXPERIENCE: Selected as an astronaut candidate by NASA in June 1987, Dr. Jemison completed a one-year training and evaluation program in August 1988. She is qualified for assignment as a mission specialist on Space Shuttle flight crews. Her technical assignments to date have included: astronaut office representative to the Kennedy Space Center, Cape Canaveral, Florida, which involved participation in the processing of the Space Shuttle for launch, especially its payloads and thermal protection system (tiles), and launch countdown; work in the Shuttle Avionics Integration Laboratory (SAIL) performing verification of Shuttle computer software.
CURRENT ASSIGNMENT: Dr. Jemison is assigned as a mission specialist on STS-47, Spacelab-J. This cooperative mission between the United States and Japan, to conduct experiments in life sciences and materials processing, is scheduled for launch in September 1992.
MAY 1992
Birth Place: African, Alabama.
Status: Inactive.


Born: 1956.10.17.
Spaceflights: 1 .
Total time in space: 7.94 days.

More... - Chronology...
---
---
---
Associated Countries
---
See also
---
Associated Flights
---
Associated Programs
---
Bibliography
---
Jemison Chronology
---
1987 June 5 -
.
---
1992 September 12 -
. 14:23 GMT - .
Launch Site
:
Cape Canaveral
.
Launch Complex
:
Cape Canaveral LC39B
.
LV Family
:
Shuttle
.
Launch Vehicle
:
Shuttle
.
LV Configuration
: Space Shuttle STS-47.
---
1992 September 20 -
.
---
Home - Browse - Contact
© / Conditions for Use
---