---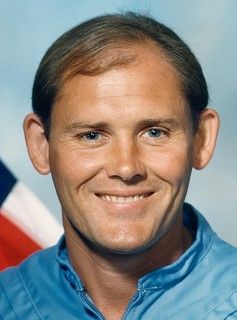 Carter
Credit:
www.spacefacts.de
- www.spacefacts.de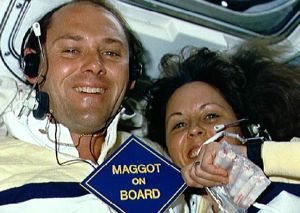 STS-33
STS-33 MS Carter and MS Thornton display "Maggot on Board" sign and candy
Credit: NASA
Carter, Dr Manley Lanier Jr 'Sonny'
(1947-1991) American physician mission specialist astronaut. Flew on STS-33. Grew up in Warner Robins, Georgia. Died in the crash of a commercial airliner while on NASA business travel.
---
Official NASA Biography
NAME: Manley Lanier "Sonny" Carter, Jr. (Captain, USN)
NASA Astronaut
BIRTHPLACE AND DATE: Born August 15, 1947, in Macon, Georgia, but considers Warner Robins, Georgia, to be his hometown. His father, Manley L. Carter, Sr., and his mother, Elizabeth C. Carter, are deceased.
PHYSICAL DESCRIPTION: Brown hair; blue eyes; height: 6 feet 1/2 inch; weight: 165 pounds.
EDUCATION: Graduated from Lanier High School, Macon, Georgia, in 1965; received a bachelor of arts degree in Chemistry from Emory University in 1969, and a doctorate of Medicine from Emory University in 1973.
MARITAL STATUS: Married to the former Dana Powell of Jacksonville, Florida. Her mother, Mrs. Sara Powell, resides in Jacksonville, Florida. Her father, Mr. John Powell, is deceased.
CHILDREN: Olivia Elizabeth, May 27, 1974; and Meredith Corvette, December 3, 1976.
RECREATIONAL INTERESTS: He enjoys wrestling, golf, tennis, L.A. Dodger baseball, and old movies. Carter was a professional soccer player from 1970-73, for the Atlanta Chiefs of the NASL.
ORGANIZATIONS: Member of Sigma Delta Psi, Alpha Tau Omega, the Marine Corps Aviation Association, and SETP.
SPECIAL HONORS: Recipient of the Air Medal, Meritorious Service Medal, Navy Achievement Medal, Meritorious Unit Citation, Marine Corps Aviation Association Special Category Award 1982, and NASA Meritorious Service Medal 1988, and NASA Space Flight Medal 1989. Carter was the guest of Honor at the 215th Marine Corps Birthday Ball.
EXPERIENCE: Carter graduated from medical school in June 1973, and completed a straight internal medicine internship at Grady Memorial Hospital in Atlanta, Georgia. In July 1974, he entered the U.S. Navy and completed flight surgeon school in Pensacola, Florida. After serving tours as a flight surgeon with the 1st and 3rd Marine Air Wings he returned to flight training in Beeville, Texas, and was designated a Naval Aviator in April 1978. He was assigned as the senior medical officer of USS Forrestal, and in March 1979, he completed F-4 training at VMFAT-101 Marine Corps Air Station, Yuma, Arizona. He was subsequently reassigned as a fighter pilot to duty flying F-4 phantoms with Marine Fighter Attack Squadron 333 at MCAS Beaufort, South Carolina. In 1981 he completed a 9-month Mediterranean cruise aboard USS Forrestal with VMFA-115. In September 1982, he attended U.S. Navy Fighter Weapons School (TOPGUN) and then served as 2nd Marine Air Wing standardization officer and F-4 combat readiness evaluator at MCAS Cherry Point, North Carolina. He then attended U.S. Naval Test Pilot School graduating in June 1984. He has logged 3,000 flying hours and 160 carrier landings.
NASA EXPERIENCE: Selected by NASA in May 1984, Carter became an astronaut in June 1985, qualified for assignment as a mission specialist on future Space Shuttle flight crews. Carter was assigned as Extravehicular (EVA) Representative for the Mission Development Branch of the Astronaut Office when selected to the crew of STS-33. The STS-33 crew launched, at night, from Kennedy Space Center, Florida, on November 22, 1989, aboard the Space Shuttle Discovery. The mission carried Department of Defense payloads and other secondary payloads. After 79 orbits of the earth, this five day mission concluded on November 27, 1989 with a hard surface landing on Runway 04 at Edwards Air Force Base, California. With the completion of his first mission, Carter has logged 120 hours in space.
CURRENT ASSIGNMENT: Captain Carter is assigned as a mission specialist on the crew of STS-42, the first International Microgravity Laboratory (IML-1).
NOVEMBER 1990
Died April 5, 1991, near New Brunswick, Georgia, in the crash of a commercial airliner while on NASA business travel.
Birth Place: Macon, Georgia.
Status: Deceased.


Born: 1947.08.15.
Died: 1991.04.05.
Spaceflights: 1 .
Total time in space: 5.00 days.

More... - Chronology...
---
---
---
Associated Countries
---
See also
---
Associated Flights
---
Associated Manufacturers and Agencies
---
Associated Programs
---
Bibliography
---
Carter Chronology
---
1984 May 23 -
.
---
1986 September -
.
---
1989 November 23 -
. 00:23 GMT - .
Launch Site
:
Cape Canaveral
.
Launch Complex
:
Cape Canaveral LC39B
.
LV Family
:
Shuttle
.
Launch Vehicle
:
Shuttle
.
LV Configuration
: Space Shuttle STS-33R.
---
1989 November 28 -
.
---
1991 April 5 -
.
---
Home - Browse - Contact
© / Conditions for Use
---