Home - Search - Browse - Alphabetic Index: 0- 1- 2- 3- 4- 5- 6- 7- 8- 9
A- B- C- D- E- F- G- H- I- J- K- L- M- N- O- P- Q- R- S- T- U- V- W- X- Y- Z
---
Altairis
---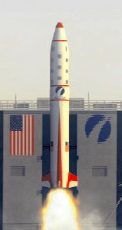 Altairis
American manned spacecraft. Study 2006. Rocket utilizing liquid oxygen / kerosene propulsion, launched vertically and with the planned capability of sending seven tourists on a suborbital space trip.
Status: Study 2006.
Founded in 2001, Sprague Astronautics, planned Altairis to be a generation of spacecraft that were produced on an ongoing basis on a production line. In 2002 AERA anticipated having the first Altairis completed in 2006 with approximately one new Altairis vehicle produced each month thereafter. AeraSpaceTours foresaw providing spaceflights starting in late 2006 at CCAFS. By 2005 the first flight date had moved to 2008.
On March 7, 2005, AeraSpaceTours signed a "Commercial Space Operations Support Agreement" with the USAF. This agreement ascertains the ground-rules intended for AeraSpaceTours' proposed access of the launch facilities and support services at CCAFS. The agreement was effective for five years and renewable thereafter.
By 2008 no development progress seems to have been made.
---
---
Family
:
Manned spacecraft
,
New Space Tourism
,
Suborbital
.
Country
:
USA
.
Agency
:
Sprague
.
---
---
Back to top of page
---
Home - Search - Browse - Alphabetic Index: 0- 1- 2- 3- 4- 5- 6- 7- 8- 9
A- B- C- D- E- F- G- H- I- J- K- L- M- N- O- P- Q- R- S- T- U- V- W- X- Y- Z
---
© 1997-2019 Mark Wade - Contact
© / Conditions for Use
---