Home - Search - Browse - Alphabetic Index: 0- 1- 2- 3- 4- 5- 6- 7- 8- 9
A- B- C- D- E- F- G- H- I- J- K- L- M- N- O- P- Q- R- S- T- U- V- W- X- Y- Z
---
A8
---
Part of V-2 Family
---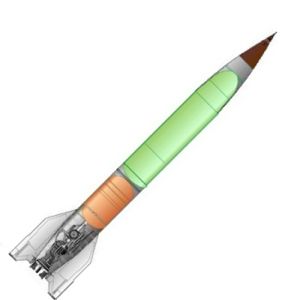 A8
Credit: © Mark Wade

German ballistic missile. Planned stretched version of the V-2 with storable propellants. Never reached the hardware stage, but design continued after the war in France as the 'Super V-2'.

Status: Study 1941. Thrust: 340.00 kN (76,430 lbf). Gross mass: 22,370 kg (49,310 lb). Diameter: 1.78 m (5.83 ft).
---
---
Family: IRBM. People: von Braun. Country: Germany. Bibliography: 394.
---
---
Home - Search - Browse - Alphabetic Index: 0- 1- 2- 3- 4- 5- 6- 7- 8- 9
A- B- C- D- E- F- G- H- I- J- K- L- M- N- O- P- Q- R- S- T- U- V- W- X- Y- Z
---
© 1997-2017 Mark Wade - Contact
© / Conditions for Use
---