Home - Search - Browse - Alphabetic Index: 0- 1- 2- 3- 4- 5- 6- 7- 8- 9
A- B- C- D- E- F- G- H- I- J- K- L- M- N- O- P- Q- R- S- T- U- V- W- X- Y- Z
---
217 missile
---
Part of S-25
---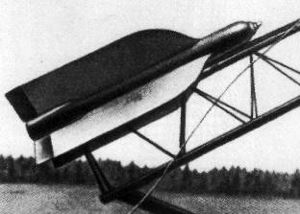 217/II
Russian surface-to-air missile. The 217 was a version of the V-300 with a variable thrust engine. Entered production.
AKA: 5Ya25;La-217;S-25MA. Thrust: 166.00 kN (37,318 lbf).
Isayev and D D Sevruk at OKB-3 of NII-88 developed competing engine designs. In 1958, before development was completed, Sevruk's operation was closed down and his staff combined with Isayev' s. Isayev considered his S5.1 design in a more advanced stage of development than Sevruk's S3.42A, so the Sevruk design was cancelled. The missile with the modified engine completed factory trials in 1958 and was accepted for PVO service in combination with the B-200M improved radar and other S-25 system elements. The new engine significantly increased the missile's performance, and this was the first version with hypersonic flight capability.
Boost Propulsion: Storable liquid rocket, AK-20I/TG-02 OT-155, pump-fed. Cruise Thrust: 166.000 kN (37,318 lbf). Cruise Thrust: 17,000 kgf.
---
---
Family
:
surface-to-air
.
Country
:
Russia
.
Engines
:
S5.1
,
S3.42A
.
Agency
:
Almaz bureau
,
Grushin
.
---
---
Back to top of page
---
Home - Search - Browse - Alphabetic Index: 0- 1- 2- 3- 4- 5- 6- 7- 8- 9
A- B- C- D- E- F- G- H- I- J- K- L- M- N- O- P- Q- R- S- T- U- V- W- X- Y- Z
---
© 1997-2019 Mark Wade - Contact
© / Conditions for Use
---