Home - Search - Browse - Alphabetic Index: 0- 1- 2- 3- 4- 5- 6- 7- 8- 9
A- B- C- D- E- F- G- H- I- J- K- L- M- N- O- P- Q- R- S- T- U- V- W- X- Y- Z
---
1956 Von Braun Passenger Ship
---
Part of American Mars Expeditions
---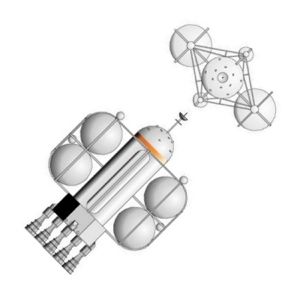 1956 Passenger Ship
1956 Von Braun Passenger Ship
Credit: © Mark Wade
American manned Mars orbiter. Study 1956. The 1956 version of Von Braun's Mars design was slashed by 50% in mass, while the number of passengers was increased from 10 to 12.
Status: Study 1956. Thrust: 3,530.00 kN (793,570 lbf). Gross mass: 1,700,000 kg (3,700,000 lb). Unfuelled mass: 60,000 kg (132,000 lb). Specific impulse: 297 s. Height: 37.00 m (121.00 ft). Diameter: 7.90 m (25.90 ft).
The passengers would be housed in a 7.9-m-diameter sphere during the 963 day mission to Mars, in Mars orbit, and back to earth. The Passenger Vessel would perform four major maneuvers: Trans-Mars Injection, Mars Orbit Insertion, Trans-Earth Injection and Earth Orbit Insertion.
The crew quarters were divided in three decks: an upper control deck, with a transparent dome for the navigator to take star sightings; and two decks of living quarters. A fireman's pole ran through the center for use by the crew in getting around the ship in zero gravity. At the bottom of the passenger sphere was an airlock for access to space. The internal atmosphere would be oxygen/helium, at 0.54 atmospheres pressure.
Crew Size: 12. Spacecraft delta v: 9,000 m/s (29,500 ft/sec).
---
---
Family
:
Mars orbiter
.
People
:
von Braun
.
Country
:
USA
.
Spacecraft
:
Von Braun Mars Expedition - 1956
.
Propellants
:
Nitric acid/Hydrazine
.
Bibliography
:
49
,
591
.
---
---
Back to top of page
---
Home - Search - Browse - Alphabetic Index: 0- 1- 2- 3- 4- 5- 6- 7- 8- 9
A- B- C- D- E- F- G- H- I- J- K- L- M- N- O- P- Q- R- S- T- U- V- W- X- Y- Z
---
© 1997-2019 Mark Wade - Contact
© / Conditions for Use
---