---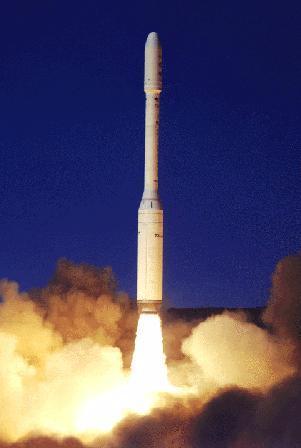 Taurus
Credit: Orbital Sciences Corporation
Pad-launched launch vehicle using Pegasus upper stages and Castor-120 first stage.
First launch used slightly larger Peacekeeper ICBM first stage instead of Castor-120. Under a 2002 contract from Boeing, Orbital developed a three-stage version of Taurus to serve as the interceptor boost vehicles for the US government's missile intercept system. The firm portion of the company's contract, awarded in early 2002, was valued at $450 million and extended through 2007.
The Taurus rocket offered an affordable, reliable means of launching small satellites into low-Earth orbit. Developed under the sponsorship of the Defense Advanced Research Projects Agency (DARPA), Taurus was designed for easy transportability and rapid set-up and launch and was a ground-based variant of Orbital's air-launched Pegasus rocket. The four-stage, inertially guided, all solid propellant vehicle could deploy a 1,350-kilogram satellite into low-Earth orbit. Two fairing sizes offered flexibility in designing a particular mission. The addition of a structural adapter allowed launch of multiple payloads.
The Taurus incorporated a simplified integration and test capability that included horizontal integration of the rocket's upper stages and offline encapsulation of the payload within the fairing. The upper stages and the encapsulated cargo were delivered to the launch site, where they were mated. The whole assembly was then stacked on the first stage using a mobile crane.
The Taurus launch system included a complete set of ground support equipment to ensure the ability to operate from austere sites. Taurus was approved for launch from the US Government's Western range at Vandenberg Air Force Base (VAFB), Cape Canaveral Air Station (CCAS) in Florida, Wallops Flight Facility (WFF) in Virginia, and Kodiak Launch Complex, Alaska.
More... - Chronology...
---
---
---
Associated Spacecraft
---
See also
---
Associated Launch Vehicles
---
Associated Launch Sites
---
Home - Browse - Contact
© / Conditions for Use
---