---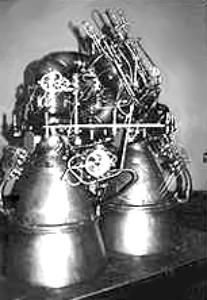 RD-0155
Credit: KBKhA
Kosberg Lox/Kerosene rocket engine. Design concept 2007. Launch thrust 902.5 kN. Engine proposed to replace RD-107 in Onega and Avrora versions of the Soyuz launch vehicle.
The engine consists of two chambers, a fixed inner chamber and a gimbaled outer chamber. Chamber pressure in the fixed chamber, 180 kg/m2; in the gimbaled chamber, 160 kg/m2.
Application: Onega or Avrora (improved Soyuz) first stages.
Characteristics
Chambers: 2. Thrust (sl): 902.500 kN (202,890 lbf). Thrust (sl): 92,000 kgf. Engine: 1,150 kg (2,530 lb). Chamber Pressure: 176.00 bar.
Status: Design concept 2007.
Thrust: 902.50 kN (202,890 lbf).
Specific impulse: 296 s.
Specific impulse sea level: 296 s.
First Launch: 1998-.

More... - Chronology...
---
---
---
Associated Countries
---
See also
---
Associated Manufacturers and Agencies
---
Associated Propellants
---
Bibliography
---
Home - Browse - Contact
© / Conditions for Use
---